Office Interiors Becoming a Hassle?
WE MAKING YOUR DREAM OFFICE A REALITY, ON YOUR BUDGET AND TIMELINE.
Best Interior Designer & Decorator
Spacewood Interiors is an Interior designer & Interior Decorator and Contractor. We have been in the Interior Decoration business for over 20 years. With a clientele all over the country, the experience that we come with backs up our confidence in the craft.
Our class apart machinery and skilled engineers make for the best of your time and money. We understand the needs of our customers and are very dedicatedly engaged in fulfilling those needs with the best available in the market. The work that we bring to you is the epitome of class, perfection, and accuracy in all the ways possible. The reviews and testimonials that our clients have shared with us over the years are the highest forms of appreciation that we know of and we strive to work forward to maintain that.
We at Spacewood Interiors follow the motto of making all our projects as our very own and work on them keeping in mind that the place that we are building for you is going to stay for the longest time on the grounds as well as in your hearts. From offices to your homes or any other preferred setting, we are well equipped with the best technology and manpower to make this a win for both of us.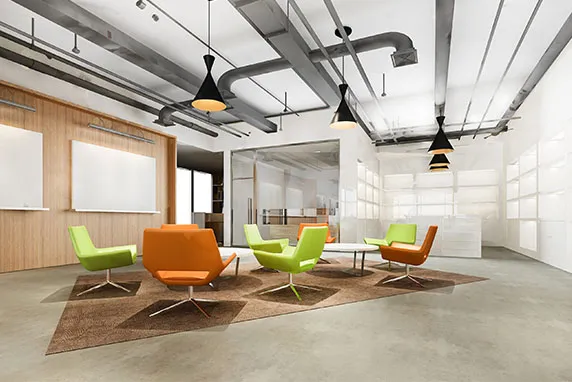 In case you're discovering your home has turned out to be excessively exhausting, and don't know where making it impossible to begin, you can liven it up with a couple of simple interiors designing thoughts and with the help of Corporate office interior in Delhi.


We are recognized as a leading and eminent interior company which are engaged in providing a comprehensive array of turnkey interiors and are capable to provide you with number of services such as tile floorings, aluminum works, civil works and many more to provide you with complete interior solutions.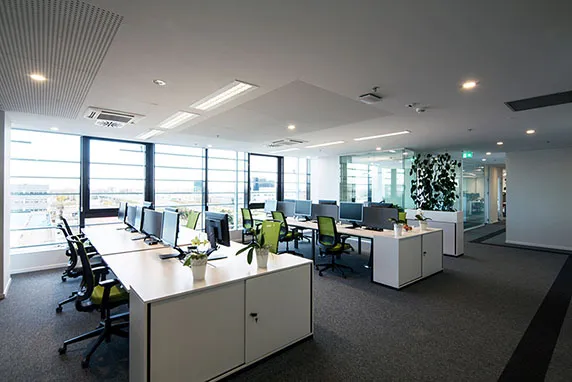 Our organization holds specialization to offer the specialized requirements of various interior finishing. All the solutions which are catered by our organization are widely used for both types of needs and demands such as banks, colleges, coaching institutes, homes, offices, business venues, small business offices, corporate and multinational companies etc.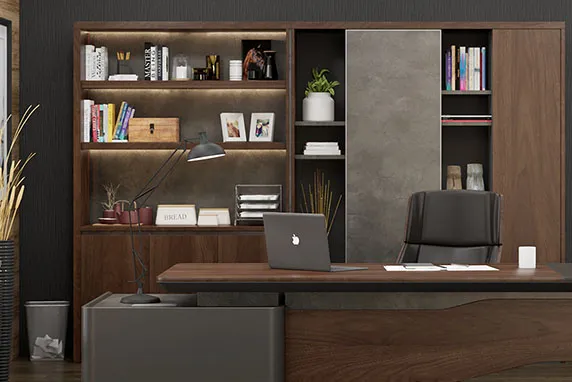 To develop, produce, sell and office table suppliers and Industrial Office Furniture in Delhi Systems utilizing the best quality information sources together with ideal utilization of most recent Manufacturing, process and innovation to convey Best Quality Products with Customer Satisfaction as our Prime Motto.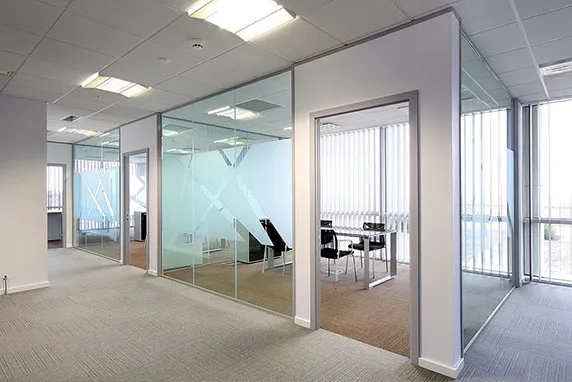 Our company holds expertise in developing and supplying various range of gypsum partitions in Delhi NCR and all over India. All these type of solutions are available by our company in different varieties to meet the needs and requirements of our valued customers for maximum efficiency and best quality of performance.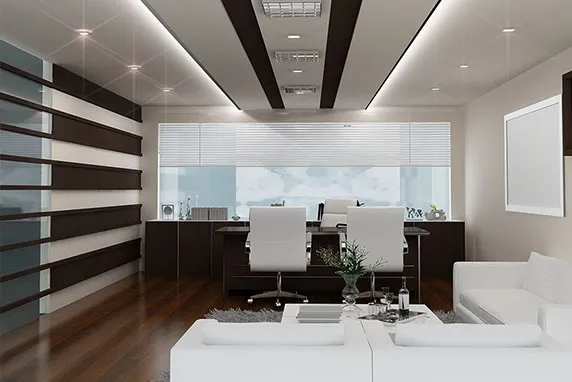 We are offering our valued customers the best quality range of gypsum false ceiling Contractors as per their needs and requirements. All the solutions provided by our company are available in various thicknesses, patterns, shades, and colors.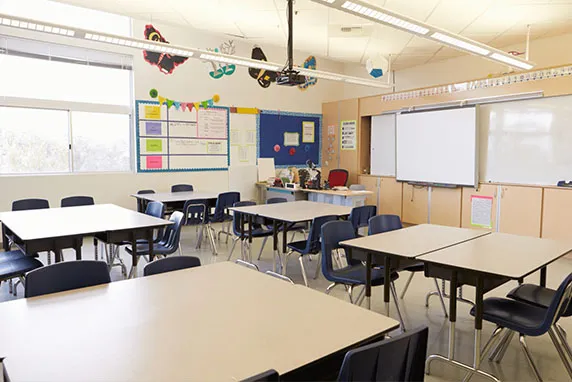 Utilizing spaces across your boarding school estate is a great opportunity to make an eternal impression through the help of a bespoke furniture manufacturer.
The autonomous education sector has a pretty increasingly competitive market.


In kitchen interior design we offer complete end-to-end designing and execution of the Kitchen interiors of your house. This includes modular kitchen designing and execution, accessories, appliances, painting and civil work.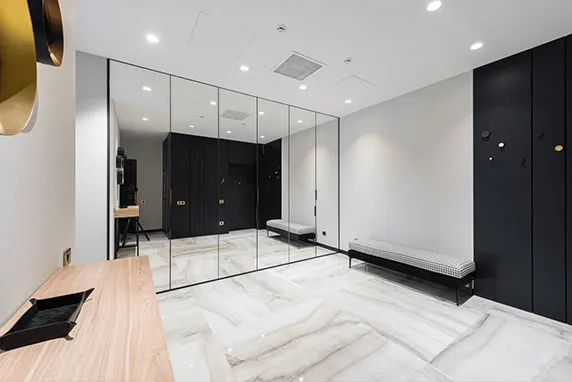 Getting a spacious closet can help you get rid of additional storage furniture like smaller cabinets and a small chest of drawers that give your bedroom a clean and tidy look. Spacewood Interiors offers a premium range of wooden wardrobes that is a classic choice.
One story many workplaces
Since 2000, we have designed and delivered over 2,500 projects in over 20 countries, managed by a team of over 120 professionals.







We create Innovative design. Exceptional designing for exceptional Spaces
Spacewood Interiors being a Turnkey Interior company that has been a part of the sphere for almost two decades is known for the commitment and the dedication that we put in the work that we do. We work with the motto of making sure that we bring the best of our client's needs to them. This motto is fulfilled with our team of specialized individuals and skilled manpower working towards a specific goal and striving to achieve that perfection that you have dreamt for. Our work has been the key feature through which we make a place for ourselves in the mind of our clients. Through the years of our existence, we have received various testimonials and validations that make us take pride in the work that we will be bringing for you, and with a dedicated group of people that works round the clock to turn your vision into a reality, we are exactly what you are looking for. Our range of services just like Office Interior and Home Interior grows into a broad spectrum that is elaborated at places throughout this website. Just like the pictures presented the work that we do also exhibits the best of the market and we would want you to experience it first-hand.
Starting with the reception and lounge areas, the focus was on creating a beautiful and welcoming space for visitors to feel comfortable in. The color palette includes cool shades of gray and white with a small touch of refreshing green.

Corporate Office Interior Contractor


Interior Design Consultant


Gypsum Partition Contractor In India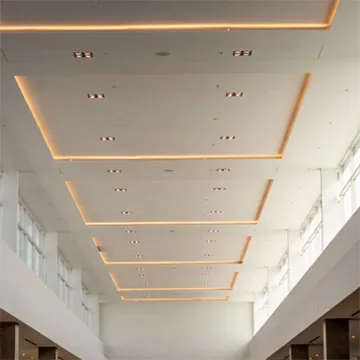 With a strong presence in seven cities, our team consists of highly qualified professionals such as architects, engineers, accountants, company secretaries and accountants, a procurement team, certified disaster management project managers, etc. provide a technological edge to

What sets us apart is our customer-centric approach. This allows us to work with integrity and always strive for excellence. This strategy has allowed us to achieve very high customer retention rates. This is evidenced by the fact that 70% of our annual transactions are with existing customers. 

Partnering with one in five Fortune 100 companies, Spacewood has expanded its customer base from corporate offices to hospitals and hotels. As a LEED-certified green building project specialist, we diversify our services beyond interior design solutions, offering comprehensive furniture solutions and a general contractor for all related services and IT packages.

Our company holds expertise in developing and supplying various range of gypsum partitions in Delhi NCR and all over India. All these type of solutions are available by our company in different varieties to meet the needs and requirements of our valued customers for maximum efficiency and best quality of performance.

Our company has made a mark in the number of interior solutions all across the India NCR India. With the best services and products our company has been praised by number of corporate, business man, companies, small offices and number of other type of customers.  We have been working for a number of sectors.

We are recognized as a leading and eminent interior company which are engaged in providing a comprehensive array of turnkey interiors and are capable to provide you with number of services such as tile floorings, aluminum works, civil works and many more to provide you with complete interior solutions.


Shahabuddin Saif
Service Coordinator

Anjali Panchal
Interior Designer

Ghanshyam Gupta
Production Supervisor
Our Clients Trust us for Best interior designing work
INTERESTED IN WORKING WITH US?
If you would like to talk to Spacewood Interiors about a project please feel free to get in touch and we'll be happy to discuss it with you.
Office interior contractor in Delhi NCR
Interior beautification can change the appearance of your space totally. The hue of your walls, the appearance of your beige-textured desks, and the furnishings of your cupboards, all this an interior décor has a very important role to play. Yes, getting good interior contractors is critical for your business, whether you are a branding company, ecommerce, or any other. It replicates your company's goals and boosts employees to work with a healthy state of mind. Spacewood Interiors is the best Interior Decorators when creating a new space or makeover of the existing space.
Well-styled office space can be a successful aspect for your business. A comfortable and inviting ambience is something that fascinates almost every employee. Likewise, planning to decorate the office space by you is a tedious job. And here is why you need the best office interior contractors in Delhi! Our skilled team of designers can inspire & be productive throughout the project.
Furthermore, decorating an indoor setting has proven to elevate your mood in different ways. It also needs thorough planning and extensive research.
Let's see how a corporate interior benefits you
A positive working atmosphere full of creative interiors helps employees focus better and relieves the mood too. You can see a good quality increase in productivity as all our designing and planning expels positive vibes. We don't just do for the namesake our team gives full soul and heart to be like a creative self-space for your employees.
A neat and systematic interior makes employees cheerier, and happiness does have an increasing influence on work! This is why it is important to have an office interior contractor for your workspace.
Different interior designers have different classes of expertise and experience. But when it comes to selecting the best office interior contractor, you should look for:
Provide best and real worth to your investment
Planning with awesome ideas on corporate office interiors
Focus on minute details
Accept inputs and suggestions certainly
Interactive Workspace Interior Decoration
Over the periods, many offices have been decorating their places to grow productivity. Similarly, research has found that a pleasing workplace improves the mood of people. And if the workspace is interactive and attractive, the work performance expands.
Corporate interior contractors assess and understand every minute detail in your workspace. They offer a sketch that meets all your needs. It helps in converting your office space into an appealing one.
Embellished workspaces can increase productivity and bond in the workforce. The main emphasis is to augment the social interaction times among the employees. Therefore, with such an interactive workspace, employees can constantly perform well and stay inspired.
Trendy ideas for interactive workspace with interior company
Long-term focused interior design
Using new ideas and decorating enjoyable spaces is now the new normal. We at Spacewood Interiors are one of the best office interior designers that thrive to fulfil your requirements. The interior design should emphasize future trends and markets! Thanks to our experienced team members and their endless effort!


Interior Decoration based on activity
Our corporate interior contractors mostly are creative in their concepts of decorations. Modern views have influenced the current workplace. A bookshelf or playing zone makes the workspace more communicative.
Similarly, decorations based activities boost employees' attitudes, and new thoughts keep on budding! Meanwhile, upcoming generations love flexible and interactive workplaces!


Versatile Decor
Every office requires a pleasant ambience to work in. Only the best office interior comes up with those outstanding ideas. Decoration shares easy interactions. For having relaxed client meetings, you need enthralling decor in meeting rooms, project rooms, conference rooms.


Good mental and physical well being
First of all, the outcome of a beautiful space and mental well-being is interconnected. Most of the companies need dazzling interiors. Spacewood Interiors being one of the skilled interior contractors, we can bring you peace.


Workspace & Decoration
Sitting for long hours can disturb your physical and mental health. We introduce engaging components to the workspace employee's good health and more productivity. Besides, we decorate your office to give an interesting touch that motivates each and every team member. It keeps them involved in work and initiates appreciation! Our decoration stimulates employee movement throughout the company.


Technology Incorporated Decoration
With the fast-changing world, the requirement for collaborative decors is on the edge. Our interior designing team has vast years of experience in decoration. We can transform your workplace into a magical place by building changes that ensemble your requirements. On the other hand, the aim is to make everything stress-free for everyone by harnessing the power of technology. We implement different structures to keep things more lively. It consists of tabletop touch screens, communicating displays, and many more.
Creating exceptional interiors with Spacewood Interiors
Setting the pieces right with an elegant touch is our attribute. We offer excellent office interiors to all businesses to increase your brand reliability. If you want to increase your customer base, grow sales, or brand identity, your office interior says everything!
We help you build the right aesthetics for a wide range of usage. We work curiously to provide a competitive edge over leading market players in the industry.
For any business, it is vital to pick the right corporate interior contractors. Certainly, building a workspace or business space with luxury elements embraces huge significance in today's way of life. And above all, upgrading to the cutting-edge and comforting spaces does more than just augment productivity. It helps to have a good bonding with your clients and every time they visit your office they love to enjoy the ambience.
Our interior design ideas are creative, stylish and express excellence in their work. The office storage spaces are also crucial, and we indicate their importance in our design schemes. Favourably, keeping the office necessities organized and convenient is what our interior décor targets for an efficient workspace.
Whether you have customized décor requirements or want us to revamp them all, reach out to us now! You think it, and our team ensures that your dream comes true with apt planning and execution. So if you are searching for the best office interior contractor, Spacewood Interiors are here to serve you.
Interior Contractors in Noida
An interior contractor is someone who makes the most efficient use of available space and is responsible for the creation of a beautiful home that is aesthetically pleasing and accurately reflects the homeowner's own preferences and way of life. Not only does the interior designer assist in making the design process easier, but they also provide recommendations keeping in mind some long-term goals, which ensures that the house decor will stay for a long time and is well balanced.
You can have your vision realized by working with a top-tier interior contractor in Noida. They can take your imaginative concept and execute it within a wide range of financial constraints. Spacewood interiors is like a wizard in the field of interior design and construction. They are fully capable of conceptualizing, creating, and implementing your home's interior design and layout, with careful attention paid to how you intend to spend the rest of your life in the house. Here are some of the most significant ways in which working with Spacewood interiors can alter your home outlook for the better.
A clear understanding of client needs
If you don't have an eye for interior design, you probably won't be able to figure out how to make the most of your home's restricted square footage. However, an interior designer, such as Spacewood interiors, has the training and expertise to take your ideas and make them a reality.
Initiating a deep dive into the client's way of life, aesthetic preferences, and design philosophy is step one for Spacewood interiors. A premium interior design service involves translating the client's aesthetic preferences into a structural representation that is following local fire and safety regulations.
Decreasing the sensation of a pinch in your pocket
The cost of employing an interior decorator is expensive. The majority of it is untrue. Did you know that Spacewood interiors would do anything it can to work within your financial constraints?
Talking with an expert might help you carve out a more original plan for furnishing your 2 BHK in Noida on a tight budget. You can save a lot of money on furniture and additional comforts, in addition to the money you would have spent on personal consulting fees with the design firm.
Enhance Visualization and Design
Working with a Noida interior design firm like Spacewood interiors ensures you'll have a layout that serves your needs while also looking great. To make the most of your home's available space, hire a professional architect and interior designer.
Even if it's just to make better use of the area next to your bed, you can rest assured that their layout will do so in the long run. It's a plus that all these new and enhanced designs adhere to the relevant zoning and construction regulations.
Maintaining a Business-like Attitude
It's one thing to decorate a brand-new house, but what about redecorating a 20-year-old home? It is construction methods and aesthetic details are likely to be unique compared to those of contemporary houses.
The interior contractors in Noida, such as Spacewood interiors, can provide you with an expert opinion instead of just guessing. They can provide you with a thorough analysis of what needs to be modified or repurposed. This provides an additional set of trained eyes that aren't available to most people, which improves the design's efficiency.
Say Goodbye to Design Mistakes
If you're looking for interior solutions in Noida, go no further than Spacewood interiors. A professional won't just throw in arbitrary design features without first taking into account the local and national building codes.
When it comes to designing your haven, only a skilled and expert interior designer will do it. Most high-end interior designers employ live architects, who provide precise drawings that further lessen the likelihood of design mistakes in the finished product.
Suggest Innovative Approaches to the Problem
Creative problem-solving was already mentioned above, but it merits special recognition throughout. When you hire an interior design consultant, they can help you answer all of your toughest concerns and realize your wildest design dreams without breaking the bank.
The interior solutions in Noida, such as Spacewood interiors, involves gaining an in-depth comprehension of the area in question and mapping out the entirety of the design process before beginning to put the appropriate plans into action to turn every vision into a tangible reality.
Easily Obtainable Materials
You may easily gain access to their workforce and equipment when you work with a Noida interior contractor like Spacewood interiors. Working with an expert interior designer might help you find great deals on high-priced items like furniture.
Their professional network is rather extensive, and they have access to a variety of connections, resources, and general goods or office interior in Noida that isn't offered in the retail market to the end users of the product.
Contacting potential repairmen. Getting an electrician's help. Locating suitable home furnishings. Making raw material and other contractor contact requests. When working alone, without a contractor, you must carry all of this responsibility.
You can avoid the hassle by working with a professional interior contractor in Noida, such as Spacewood interiors. They can help you navigate the hiring and payment processes and narrow down the options that are likely overwhelming you right now. Permitting hurdles that you may find insurmountable on your own can be overcome with the help of a professional interior design firm.
Office interior contractor in Noida
One of the most reputable interior contractors in Noida, Spacewood interiors, can provide all of these advantages, in addition to many others. They have several fully operational locations around Noida, and they are always working to make your home one of your dreams. Every stage of the planning and execution process involves teamwork and a sensitivity to the most up-to-date aesthetics and trends in the field of corporate interior contractors in Noida.